Animation Skillnet and Screen Skills Ireland are delighted to partner once again with The Irish Institute of Training and Development to bring you this free online course.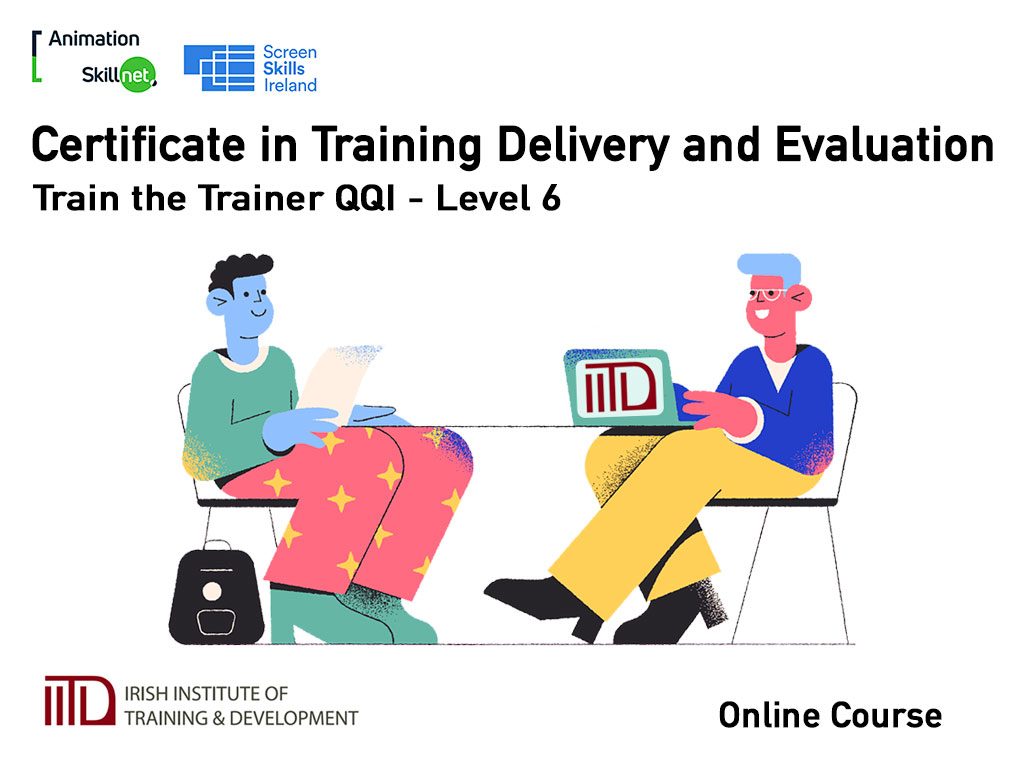 Overall Aim
The overall aim of the programme is to enable participants to develop the necessary knowledge, skills and confidence to deliver and evaluate training activities.
Course content
Adult Learning / Training Objectives
Training Delivery
Training Evaluation
The programme content comprises three sections and is delivered in a highly participative and practical manner. A range of learning methods and approaches will be used to promote the practical application of theoretical concepts covered.
Learning Objectives

At the end of this module, participants will be able to:
Discuss key aspects of adult learning theory and implement associated principles in the design and delivery of training activities.
Set appropriate training objectives for planned training activities.
Explain the role and competences of an effective trainer.
Identify key elements of preparing for training delivery.
Demonstrate core skills required for effective delivery of training programmes.
Identify a range of assessment tools, techniques and approaches and devise an appropriate strategy for the assessment of learning.
Explain the background to training evaluation, identify a range of evaluation models and principles, evaluate training programmes effectively and identify key areas of benefit and opportunity.
Programme Text-Book (provided): Professional Practice in Training & Development – An Essential Guide (IITD Publication. The course book will be posted out to participants one week before the course so they have it for the pre-reading.
About the Tutor
John Gorman is a HR and L&D professional and a former HR Director for Green Isle Foods Ltd. With multi-location experience in operational and HR/L&D roles, John has led the people agenda across Ireland, the UK, as part of a privately-owned multinational business and has experience of working in a multinational plc.
John has an MSc in Training and Performance Management (University of Leicester), a Diploma in Training and Development and a Certificate in Employment Law. John is a past President of the Irish Institute of Training and Development.
Participant profile
This course is open to professionals and freelancers in the Animation, Games and VFX industry with a current, valid address in the Republic of Ireland.
The IITD Trainer Skills Certificate is suitable for the following:
Individuals with considerable involvement in the delivery of training.
Individuals who have an interest in training and development and may wish to pursue it as a career.
Individuals with training-related responsibilities in studios and organisations.
Consultants who wish to gain a formal training qualification.
System requirements needed for the course
Webcam and Microphone for live chat sessions and feedback.
Additional hardware requirements for the course: Courses will be taking place using the Moodle and Zoom Apps. Participants will need to have a good internet connection and a device with Audio, Webcam and Microphone for live chat sessions and feedback.
Dates & Times
4 Saturdays in June, with online classes from 10am to 4pm (please note that there will be additional study/reading given outside these hours): Sat 6th, Sat 13th, Sat 20th and Sat 27th of June.
Tuesday 2nd June from 2.30pm for 45min max. (Tech test)
Saturday 6th of June from 9am to 5pm
Saturday 13th of June from 9am to 5pm
Saturday 20th of June from 9am to 5pm
Saturday 27th of June from 9am to 5pm
The Course will be delivered using Zoom. A typical day will look like this (subject to change by tutor as programme progresses):
9am – 10am Pre-class check and assigning of pre-class work
10am – 12 noon Online lecture
12 noon – 1pm Post-class exercise/reading
1pm – 2pm Lunch break
2pm – 4pm Online lecture
4pm – 5pm Post-class exercise/reading
Cost
Exceptionally, we will be offering this course at no cost to the participants, as Animation Skillnet has committed to support the Irish Animation, Games and VFX Industries impacted by Coronavirus (COVID-19)​.
Application Procedure
To apply, please follow the instructions on the link below before Monday 18th May at 5pm:
All applicants will be notified by email on Monday 25th of may.
Please note that applications for this course are now closed.
This course does not have any sections.